About HH Catamarans
HH Catamarans build state of the art, carbon fibre, high performance yachts for a discerning clientele who seek an exceptional ownership experience. HH Catamarans was formed in early 2012 and set about developing a new brand, something extraordinary. In the years since "HH" has come to represent a commitment to the quality and success of every boat built.
HH44-01 is slated for delivery around July 2023, with subsequent hulls following closely behind. With 35 hulls sold and the first 11 already in production, the HH44 has surpassed expectations and is poised to make waves when she debuts this Fall. The HH44 is expected to be a nominee in the Boat of the Year, European Yacht of the Year, and Multihull of the Year competitions. In anticipation of a flurry of interest and new orders, the HH yard in Cebu will be coming online this month, allowing for simultaneous production lines and a significantly improved production outlook. We are excited to announce that current lead times for new builds have been reduced by an entire year. To learn more about current availability and pricing, please contact us anytime
YOU ONLY LIVE ONCE. NEVER COMPROMISE.
Award Winning
HH Catamarans design and build award winning, state-of-the-art, carbon catamarans for a discerning clientele who seek an exceptional ownership experience.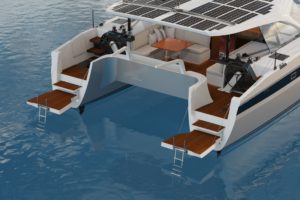 Performance and Luxury
Designed to withstand the rigors of sailing around the world multiple times in speed and style.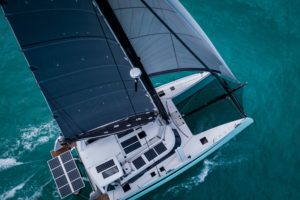 Design Excellence
Designed in partnership with Morrelli & Melvin in California, and built at a state of the art production yard in China, HH Catamarans can deliver a boat of far superior quality and value than anyone else.
Carbon Construction
HH are experts in carbon fibre construction. They build boats that will retain their rigidity, safety, longevity. They offer a hull warranty of five years, we expect their  boats to be sailing the world's oceans for 50+ years.
Our HH Catamarans
Contact Details